Another Option For Your Market Research

Another Option For Your Market Research
At Findoout, we have a fresh approach to market research. We help our clients make informed decisions through high quality research that's quick, accurate and cost-effective. By embedding highly targeted, focused micro-surveys into a proprietary website of self-tests (findoout.com), we gather market data and deliver market insights to clients in as little as 24 hours.
A user visits findoout.com. He/she makes a registration and/or takes the self-tests of his/her likes;
Upon completing a self-test, the user receives a survey invitation in real time. He/she gets to choose whether to take the survey or skip it and get the result of the self-test;
Upon completing the survey, the respondent gets the self-test result and Findoout receives real-time respondent data, often within hours of a survey launch;
If needed, we also use the members of the findoout.com to conduct surveys;
Findoout promotes its self-tests in China's leading networks.
Findoout Research Overview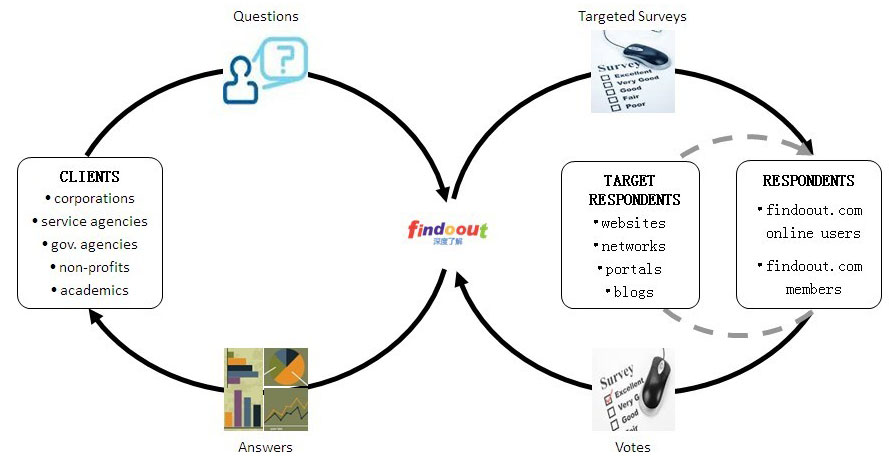 We can help you unlock consumer thinking in the world's most challenging, dynamic and high-growth markets.Findoout is faster, more accurate, more flexible and cheaper than traditional panel based research.
---
Fast
Short survey - high rate of return
Real-time data as respondents are engaged in findoout.com
Real-time access to interim results
Efficient system that is capable of doing sophisticated analysis and simple exporting of survey results in Excel and PowerPoint file formats
Tailer-made survey results in as little as 24 hours
Accurate
Short questionnaire ensures authentic data from survey participants
All respondents come from findoout.com members of users
Rich data set on all members through self-tests
High standard quality controls
Strict ongoing member management
Respondents are not paid with cash, excluding possible "professional survey takers"
Flexible
Custom-designed – highly focused
Ability to connect with a unique audience by promoting findoout.com in the relevant websites based on the clients' sample needs
A survey can be launched any time while ready-to-survey respondents logged in to findoout.com
Affordable Price
No remuneration involved that keeps the cost low
No need to recruit samples periodically since samples are generated continuously from findoout.com
Efficient system that keeps prices low
Targeted, focused survey to suit even limited budgets